North Texas Giving Day 2017
Save the Date 9.14.17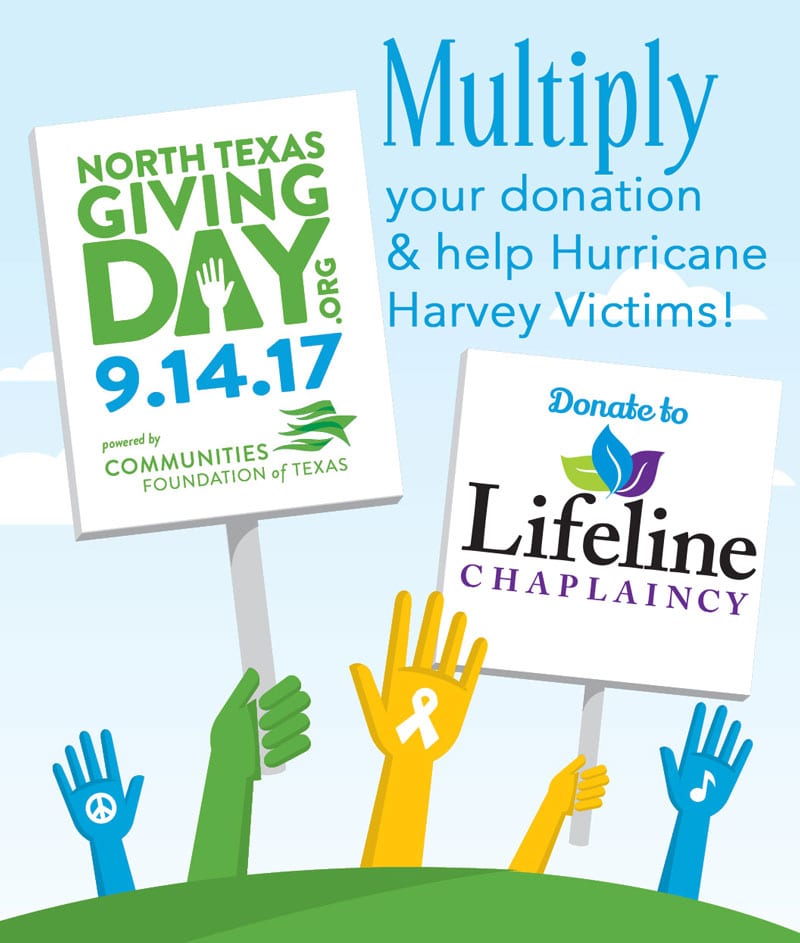 Help Us Reach Our Goal TODAY
TODAY, September 14, 2017, Lifeline Chaplaincy is participating in Communities Foundation of Texas's ninth annual North Texas Giving Day, a one day online giving extravaganza. Your donations help us to minister to those who are in Houston at the medical center as well as those who have been evacuated to Dallas, Fort Worth, and Central Texas. We invite you to join the movement and help us reach our goal of $5,000.
Here's how you can join the movement:
1. Get up and give!
Make your dollar stretch further! On September 14th if you donate to our organization on NorthTexasGivingDay.org between 6am and midnight your dollar will be stretched with your own matching funds plus bonus funds and prizes raised by the Communities Foundation of Texas! Your donation will help us receive extra funds for our work in the community. Make your gift on September 14 by visiting our donation page.
2. Spread the word!
Spread the word to your friends and loved ones about our organization and North Texas Giving Day! Don't forget to tag us and #NTxGivingDay if you're posting online! Encourage your friends and family to get up and give as well!
How Are My Funds Multiplied?