How We Started
"I was sick and you cared for me…"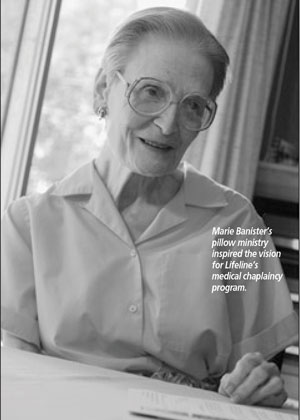 Marie Banister, a member of Southwest Central Church of Christ in Houston in 1968, recognized this need as she visited patients as a volunteer in the Texas Medical Center. That year, she began making pillows to deliver to the patients she met while visiting in the children's ward of M.D. Anderson Cancer Center in Houston. As she became known as "the pillow lady," Banister realized she couldn't continue her ministry alone. She solicited help from women in Houston-area Churches of Christ, and a group began meeting to sew pillows.
As the pillow ministry expanded, and as Banister continued her hospital visitation, she recognized the need for a full-time chaplain. She approached the elders at Southwest Central and shared her vision of a medical chaplaincy ministry. The elders formed a board of directors that included representatives from other congregations. Then the board began planning a chaplaincy program and consulted many resources.
Lifeline began in 1983, originally under the name "Church of Christ Medical Center Chaplaincy." Fry was hired as executive director in 1985. As Lifeline continued to grow, so did the pillow ministry. The first time the women met, they made 36 pillows. Lifeline included the pillow ministry as one of its own. These hand-crafted items represent the heart of Lifeline's ministry – a personal touch in the time of medical crisis. From these humble beginnings, Lifeline has grown to encompass much of the state or Texas. To date, they have delivered over 23,000+ comfort items and we have visited more than 34,000 patients and their caregivers.
Lifeline's mission is as simple as the end of Matthew's 25th chapter. "At some point, we'll all be hungry, we'll all be naked, we'll all be sick," Fry says about the importance of Christians working in medical chaplaincy. "That whole Matthew passage says we really don't have a choice but to help others in their hour of need."